Website Establishes Brand for Home Remodeling Company
Your website is an extension of your brand, and your brand is who you are and what sets you apart from your competition. As a local business, it's essential to portray a consistent message from your brand in order to reinforce your unique selling position in the minds of customers.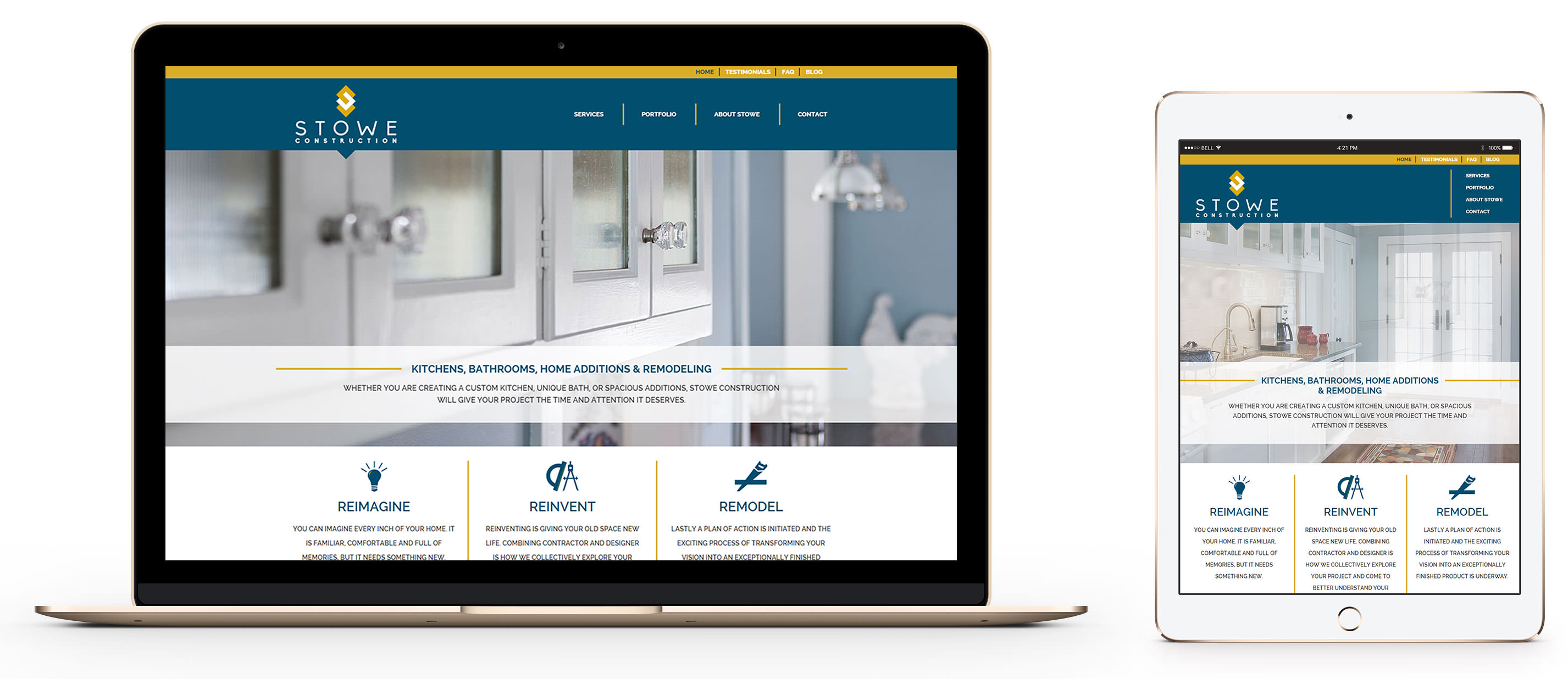 For Stowe Construction, a strong design and consistent set of styles allows their online presence to display effectively on desktops to mobile, as well as integrating with other branding efforts. The goal of this is to increase customer recognition, reinforce identity and drive business while creating an engaging user experience.
At a Glance
User friendly, mobile/responsive, customized solution for individual business needs
Full website content editable by non-technical users in WordPress including slider images, footers, home page
Easily editable interactive elements provide solutions with visual interest
Consistent branding across website and social media
Benefits
Edit ANYTHING on your website with a WordPress custom theme. The plugin architecture and template system allow endless possibilities for customization. Additionally, with link management you can easily make all your links search engine (SEO) friendly.
User management settings allow you to assign which users can access and edit certain content. With over 30,000 plugins available, you can easily enable interactive elements such as sliders, forms, calendars, maps, videos, photo galleries and more with ease.
By choosing a custom theme versus a paid template, a company can control what exactly goes on the site and its overall look and feel. From adding animated slides to gallery images, a custom theme can provide a world of creative difference in making your site fresh, modern, and interactive.
Stowe Construction
Using WordPress, Stowe Construction renovated its branding efforts by featuring an interactive portfolio page as well as a call to action on the bottom of every page.
The site is 100% customized, mobile responsive (a must for SEO reasons) and allows visitors a one-stop place to find all up-to-date information regarding their services and updates.
Portfolio page features a masonry layout of recent work
Direct call to action on bottom of every page – drive customers to contact your business
New logo and styles consistent across website, social media, and marketing materials
Drive business with a call to action
A call to action was added to the bottom of each page directing users to sign up for a free design consultation. Without being too flashy or obtrusive, this adds an essential marketing piece to the design of the website while directing customers to contact the business.
Contact us today to learn more about integrating WordPress to help market your business. Check out our portfolio to see some of the mobile-friendly sites we've built using WordPress.