Mobile pages faster by 1 second increase conversion rate up to 27%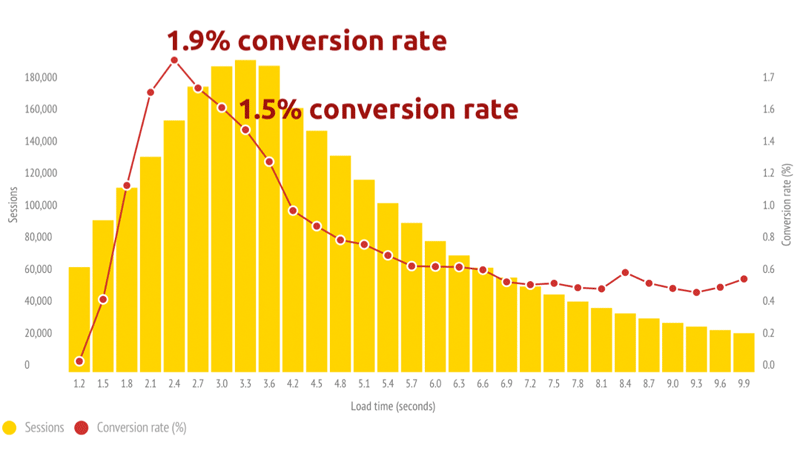 A recent case study by SOASTA highlights the importance of site speed in retaining and converting more visitors. While every site's mileage is different, it is a general rule that speed matters, especially on mobile.
In SOASTA's case, pages that were just one second faster experienced a 27% conversion rate increase. In addition, pages that were just two seconds faster doubled their conversion rate. At about 5.7 seconds, conversion rates began to flatten out.
Another important note from this study: bounce rate is affected even more dramatically than conversions. Unlike conversion rates, bounce rate didn't plateau but instead continued to climb — eventually hitting 58% at 9.9 seconds.
What is a conversion?
A conversion is what happens when a person who's browsing a site converts to being a user or buyer of the service or product that site offers. The conversion rate is the percentage of total visits to a site that result in a conversion. When pages load slower, conversion rates suffer.
How to optimize your site speed
Here are some tips for optimizing your site speed:
Test your site speed: Google Page Speed Insights is a good place to start. Page Insights will highlight what parts of your site are slow to load and where there is room for optimization. With PageSpeed Insights you can identify ways to make your site faster and more mobile-friendly.
Optimize your images: Massive image files are often the culprit for slow loading web pages. Properly optimized images can be 30% – 80% smaller without any noticeable drop in quality. To optimize photos, you can use Photoshop or a program such as JPEGmini to reduce the file size of your photos while keeping their original quality and JPEG format.
Use a single font source. Google Web Fonts is an excellent option. Switch to a single font source for streamlined performance and reduced HTTP requests.
Look at your user data: By using Google Analytics in tandem with PageSpeed reports, you can find ways to improve site performance in a targeted, strategic way.
Contact us to learn more about integrating WordPress and optimizing your site speed today. Check out our portfolio to see some of the mobile-friendly sites we've built using WordPress.