User Friendly, Mobile Responsive Medical Solution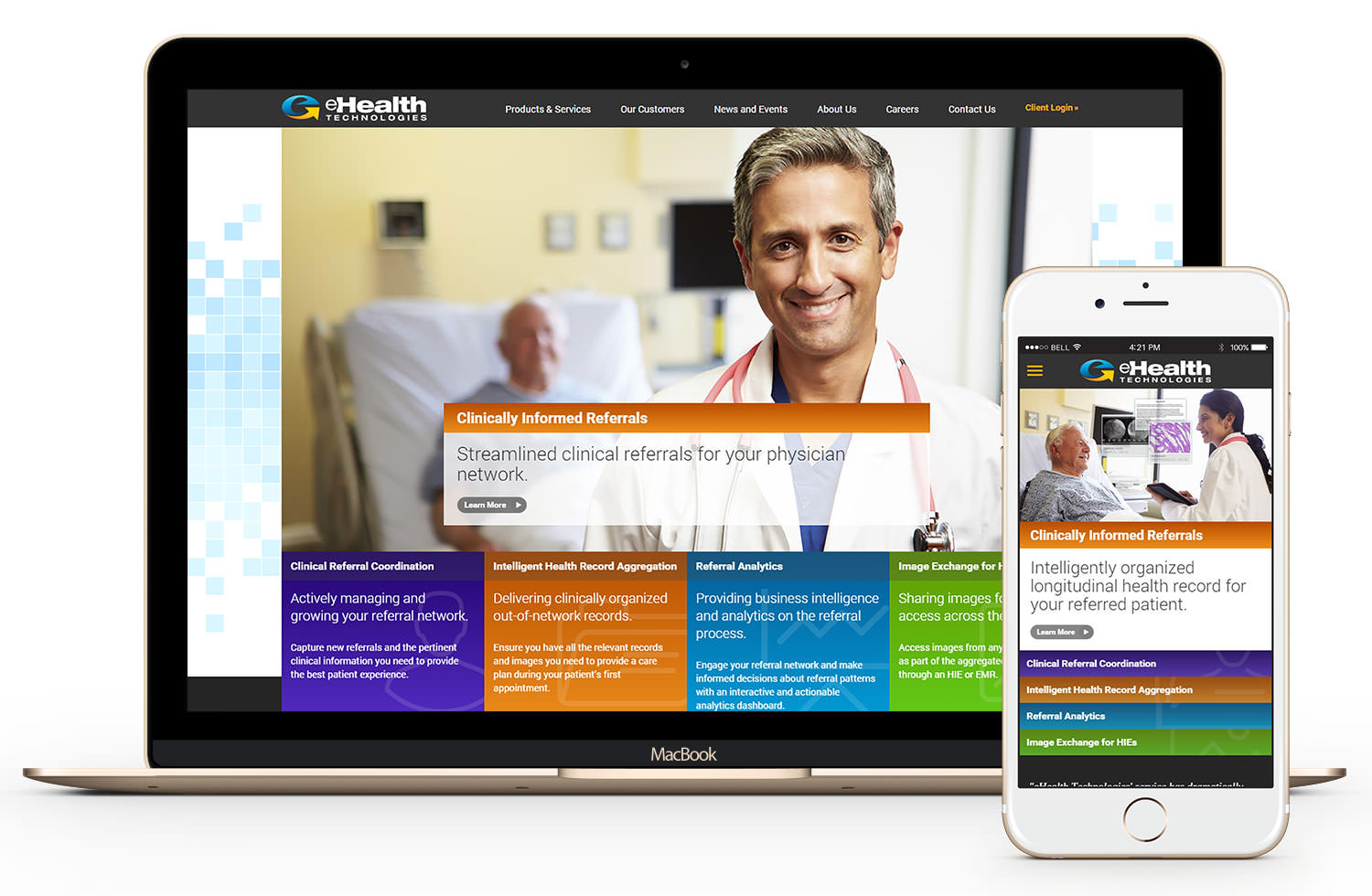 Choosing the route of custom web design and development over templates can provide solutions that are faster, more secure, and custom tailored to a companies individual brand and marketing needs. By combining WordPress with custom development, complex designs are not only made possible, but can be made fully editable within a highly user-friendly back-end that makes changes a cinch.
For eHealth Technologies, Stratejus developed an interactive way to highlight employees that works responsively across desktop, tablet, and phone. With this component employee professional photos and bios are showcased in an a way that maximizes engagement.
At a Glance
User friendly, mobile/responsive, customized solution for individual business needs
Full website content editable by non-technical users in WordPress including slider images, footers, home page
Easily editable interactive elements provide solutions with visual interest
Add a fresh twist on an old classic – highlight your people with animated featured pages
Benefits
Edit anything on your website with a WordPress custom theme. The advanced template system allows for the implementation of virtually any design, providing endless possibilities for customization. Additionally, with link management you can easily make all your links search engine (SEO) friendly.
User management settings allow you to assign which users can access and edit certain content. With powerful custom solutions you can easily enable interactive elements such as sliders, forms, calendars, maps, videos, photo galleries and more with ease.
By choosing a custom theme over a paid template, you can control what exactly goes on your site and the overall look and feel. From adding animated slides to gallery images, a custom theme can provide a world of creative difference in making your site fresh, modern, and interactive.
Effective technology presentation
eHealth Technologies harnessed the power of WordPress by featuring interactive pages to highlight its employees.
The site is 100% customized, mobile responsive (a must for SEO reasons) and allows visitors a one-stop place to find all up-to-date information regarding their services and updates.
Highlight your employees with a people page such as this one that uses a gallery feature on the back-end, allowing you to easily add and edit employees photos and content.

Highlight your people
eHealth used interactive profile cards to feature their employees. By clicking on an employee photo, a card is displayed that features that employee's bio.
Contact us today to learn more about integrating WordPress to help market your business. Check out our portfolio to see some of the mobile-friendly sites we've built using WordPress.