Product-driven Website Targets Sales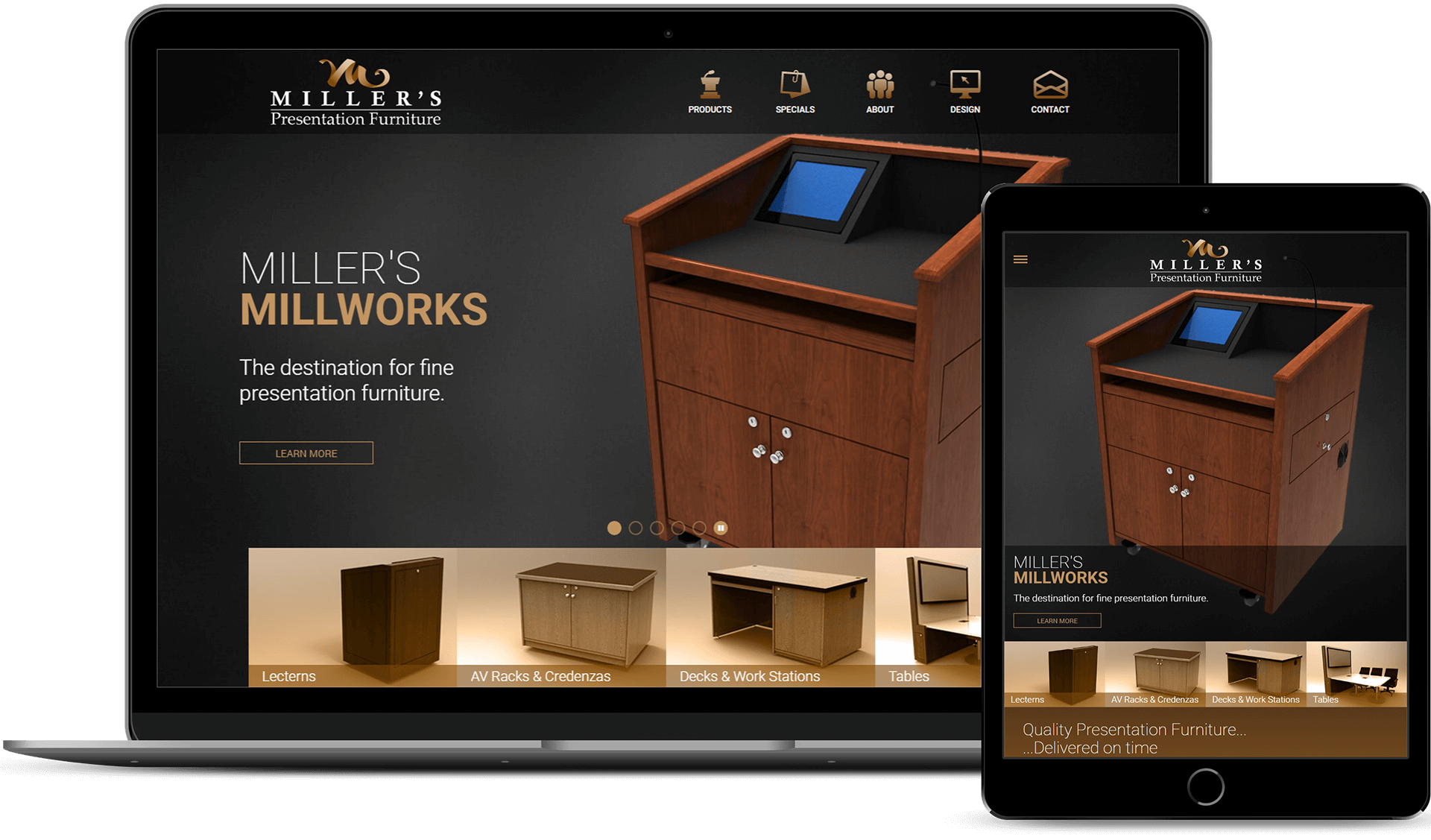 Looking for a custom solution to highlight your products while providing a superior user experience? Leveraging the ease-of-use of WordPress with custom development, you can utilize interactive features such as product galleries and sliders to promote customer engagement.
Miller's Millworks' products are displayed in an organized and interactive manner using rich animated sliders and custom galleries. The result is an engaging, responsive and customized solution perfect for highlighting different product lines to boost impact with potential customers.
At a Glance
User friendly, mobile/responsive, customized solution for individual business needs
Full website content editable by non-technical users in WordPress including slider images, footers, home page
Easily editable interactive elements provide solutions with visual interest
Organize and feature your products in an interactive and filterable way using sliders and photo galleries
Benefits
Edit anything on your website with a truly custom WordPress CMS that has been tailored both in design and development to meet the needs of your business. With built-in link management you can easily make all your links search engine (SEO) friendly, and user management allow you to assign which users can access and edit certain content.
With custom WordPress development any design can be achieved, and complex solutions such as galleries and forms can be made easily manageable for non-technical users.
Miller's Millworks
Miller's Millworks touts interactive sliders throughout several pages, animated labels and custom galleres with full-screen viewing that features panning and zooming, all hardware accelerated to run smoothly on phones and tablets.
The site is 100% custom, mobile responsive (a must for SEO) and allows visitors a one-stop place to find all up-to-date information regarding their products and services.
Highlight your products with interactive sliders and galleries, allowing you to easily add and edit product photos and content.
Add an interactive color picker to illustrate product options.

Highlight your products
The home page features an interactive slider with an option to pause animation. Below the slider lives tile links to different product sections, featuring a slick "slide-up" effect on hover that works across devices.
On mobile, the menu bar is collapsed into an accordion, off-canvas slide-out menu.
Each product series has its own page that uses a slider designed to optimize user engagement and interaction.
On the "custom" product pages, a gallery feature was adopted to allow users to view larger sizes of each product.
Additionally interactive elements, such as those on the "color finish" page, create the ability for customers to view different product options.
Contact us today to learn more about improving your business with a product driven website. Check out our portfolio to see some of the mobile-friendly sites we've built using WordPress.