Amusement Park Supercharges Attractions Marketing with WordPress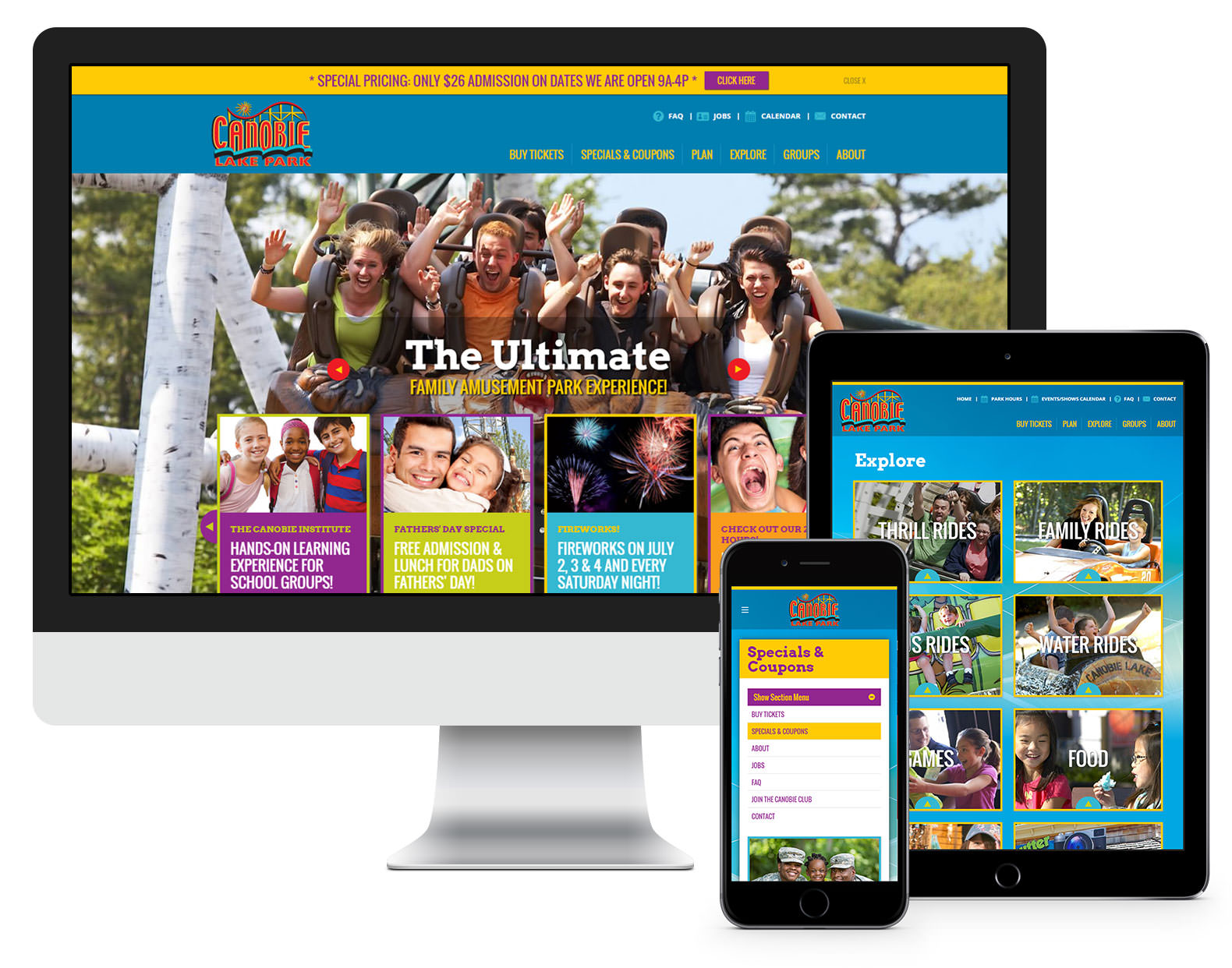 Canobie Lake Park, an amusement park in Salem, NH, takes users to greater heights with its stunning web redesign. User-experience is amplified by combining a high-voltage color scheme with rich animation, photography, and the finessed power of WordPress. A multitude of flexible content fields and unique layouts simplify the content management process making editing as easy as a trip down the lazy river.
At a Glance
Dynamically animated tiles highlight information while upcoming events are showcased in an attractive slider
Content editable by non-technical users in WordPress including slider images, footers, home page, calendar, and flexible content modules
Benefits
Edit anything on your website with a custom WordPress website. The advanced template system allows for the implementation of any design, providing unique solutions for brands and their users. Additionally automatic link management assures that all URLs will be search engine (SEO) friendly.
User management settings allow the assignment of which users can access and edit certain content. With powerful custom solutions you can enable interactive elements such as sliders, forms, calendars, maps, videos, photo galleries and more.
By choosing a custom WordPress website over a theme you can have complete control over design, content, and capabilities. From adding animated slides and galleries to building contact forms, custom WordPress design and development can provide a world of creative difference in making your site fresh, modern, and interactive.
Unleashing the Power of WordPress
Canobie is enhanced through interactive homepage features including an easily editable slider, animated tile links to featured attractions and offers, an upcoming events slider, a weather widget, and an alert bar. The site is 100% custom, mobile responsive (a must for SEO) and allows visitors a one-stop place to find all up-to-date information regarding their services and updates.
In addition, the following features in Canobie reveal the power of what WordPress custom design and development can provide:
Resources for users including park map, ride information, park calendar, and ticket purchasing are prominently featured and easily located in the main navigation menu.
Sliders on the home page and interior pages provide unique visual interest.
Dynamic info tiles that animate opening and closing on the home page and landing pages.
Flexible content formats for building rich page layouts including accordions, image blocks, and lists.
A responsive calendar solution and live events listing.
Flexible Content Fields Smash Editing Barriers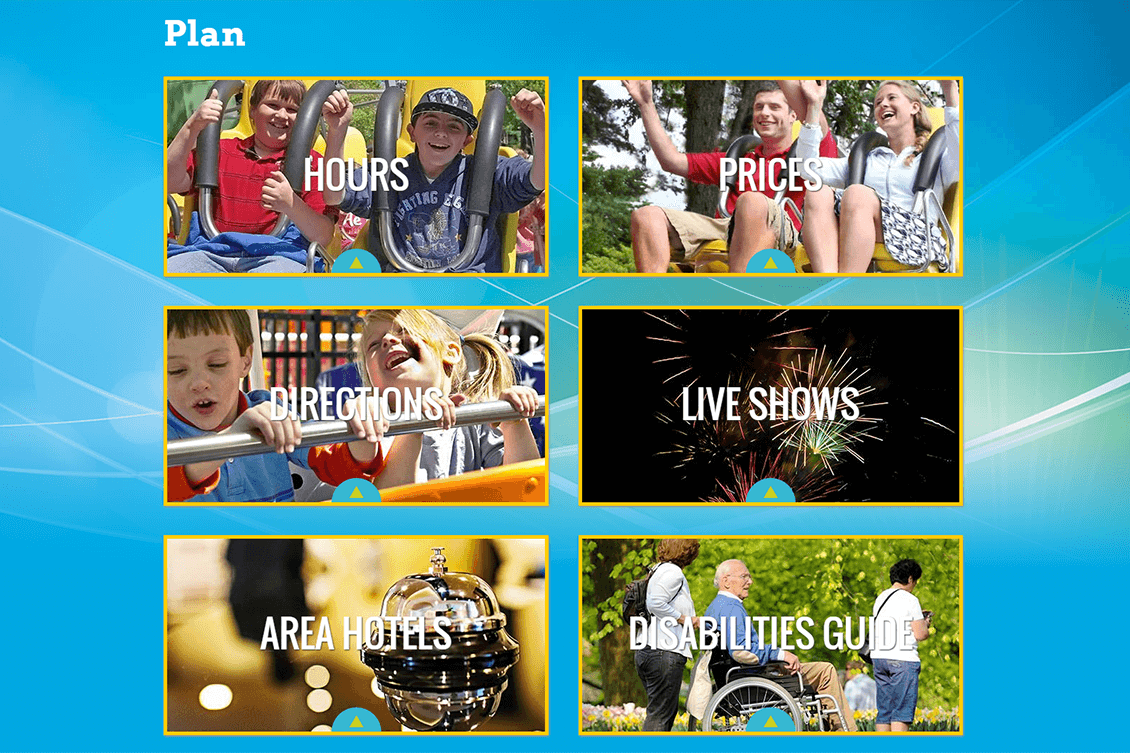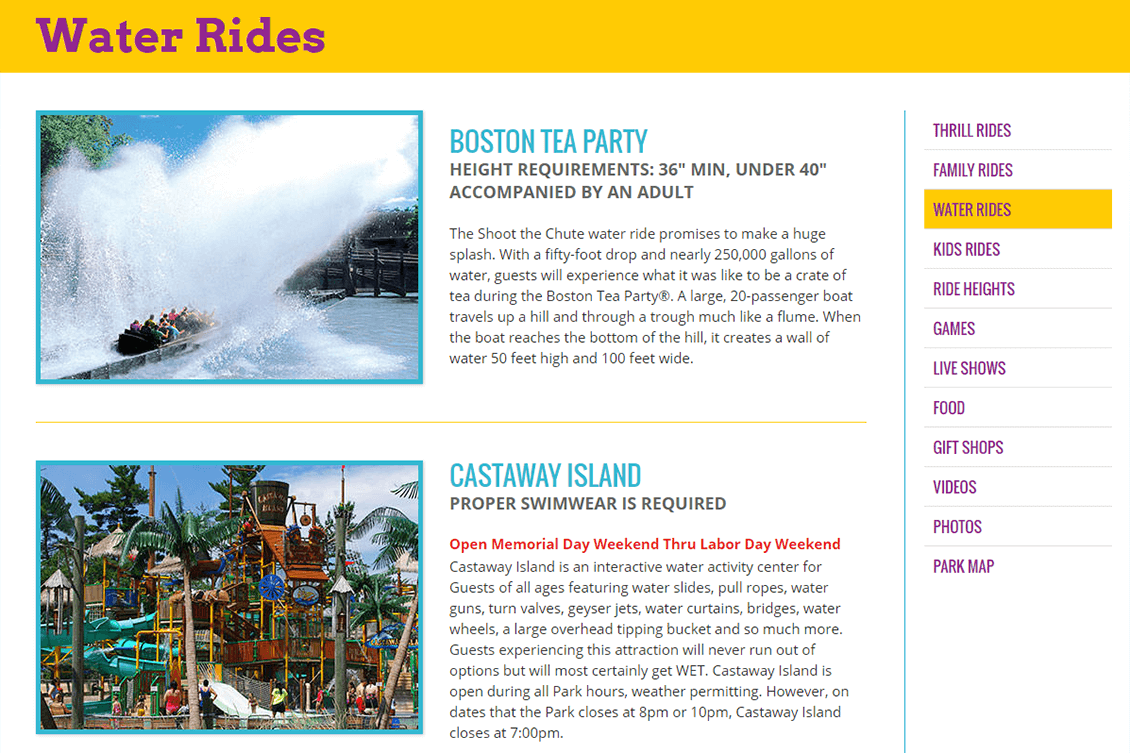 Responsive Calendar & Events Solution
A mobile optimized calendar solution makes highlighting events and office hours a breeze. In addition, it is fully editable and responsive. Thanks to the user-friendly WordPress back-end, keeping content fresh and updated is never a problem.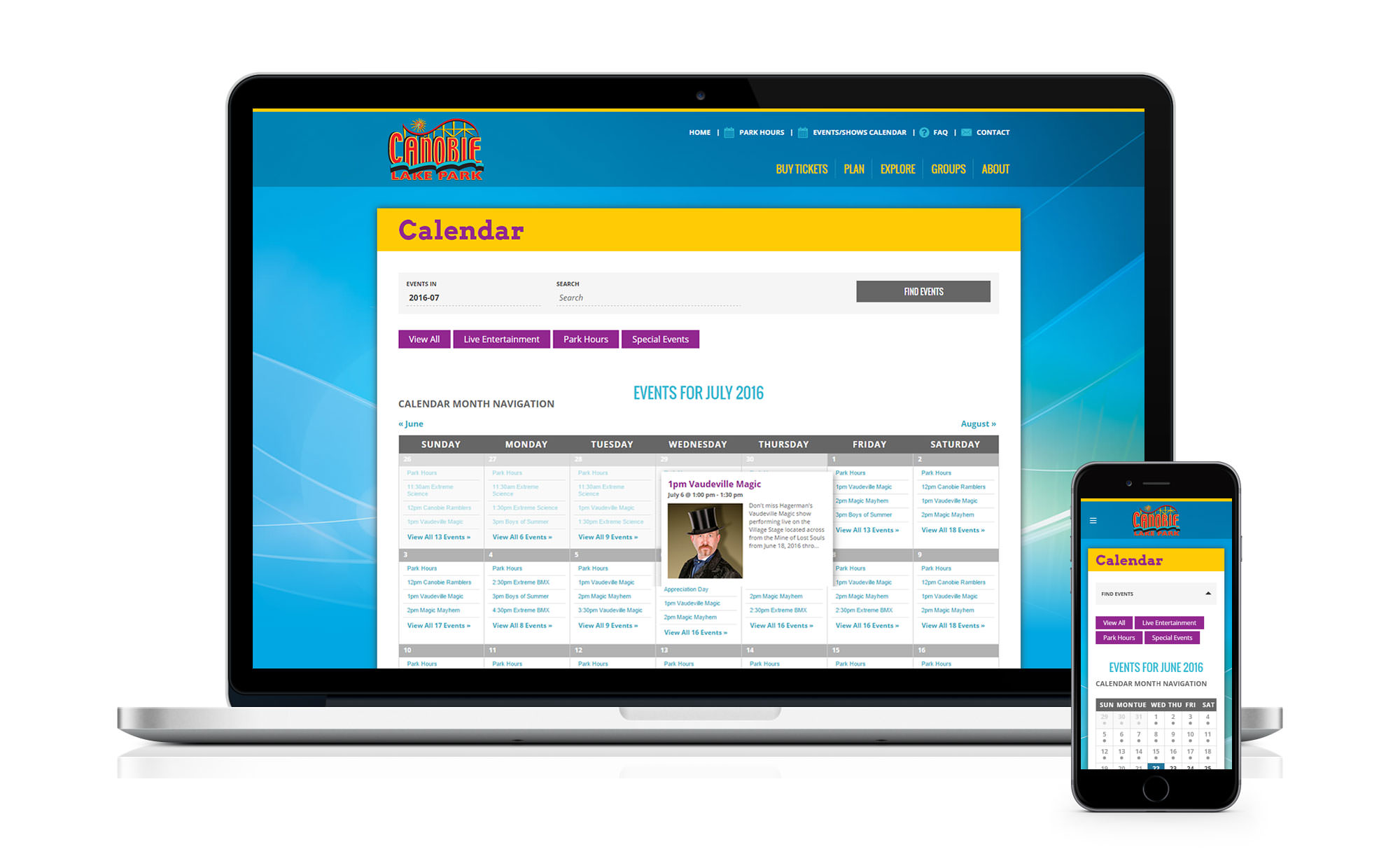 Live Shows Listing & Calendar Tool-tips Make For Breezy Browsing